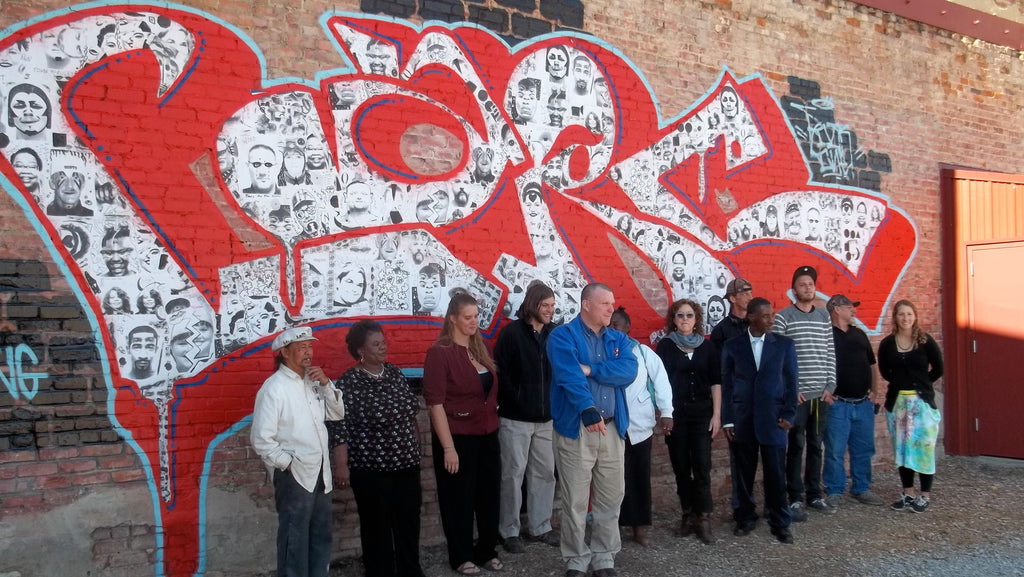 Murals
When Jay and Ellen Heavilon purchased the rundown space for the gallery in October of 2009, the building was tagged. It gave Ellen the idea to find those kids and "give them a canvas". After saying this to Frances McDonald, the founder of Mark Making , the idea of a revolving community mural and partnership began. In October of 2010 Mark Making brought in a California hip-hop, graffiti artist for a four-day workshop/community based discussion about graffiti and ended with the first mural at 110 East Main St. called "Breathe". Since then approximately every six months a new piece has been done by the community.
Breathe (October 2010) Breathe was born out of the need for the community to come together and "breathe". Graffiti when invited can be a beautiful art form and this first mural was just that.
UrbanH♥ARTbeat – (April 2011) A local high school student was chosen to create his vision for Urban H♥ARTbeat. Once the letters were in place members of the community were invited to participate by adding their own visual ideas in a triangle creating this mural.
CARE – (October 2011) "Care" was designed by local graffiti artist, SourOne, to bring attention to homelessness during the cold winter months. Inside of the word 'care' are pictures of clients from the Chattanooga Community Kitchen. Mark Making and H♥ART took photos of the clients, made printed copies then facilitated workshops where they were asked to really show us something about themselves. They could take their picture and change it up to express who they were, not what they looked like for that second the camera captured.
Help, Share, Love – Twenty-two 3rd through 5th graders from Battle Academy (our neighborhood school) were chosen to participate in this mural. For two days after school they attended a workshop facilitated by Carl Guerra, art teacher, where they talked about what it meant to help, share, and love. After learning various techniques for the applications they took their words and painted them on a heart which would then be placed on the mural. That Saturday the children along with Ms. Guerra and the Mark Making staff attached the hearts and painted the surrounding mural.
Calaveras – celebrates Chattanooga's Latino residents and culture.
To create Calaveras, Mark Making paired 12 Latino students with 12 Spanish language students in professionally led visual arts and civics classes. In the tradition of Day of the Dead, students studied visual art and design tools to create sugar skull designs to honor their ancestors. Lead Artist, Jas Milam was responsible for the mural concept, class curriculum, and onsite painting.
Mark Making partnered with H♥ART Gallery of Tennessee, Boyd-Buchanan School, Chattanooga Girls Leadership Academy, La Paz Chattanooga, and Spark to create this culturally engaging mural.